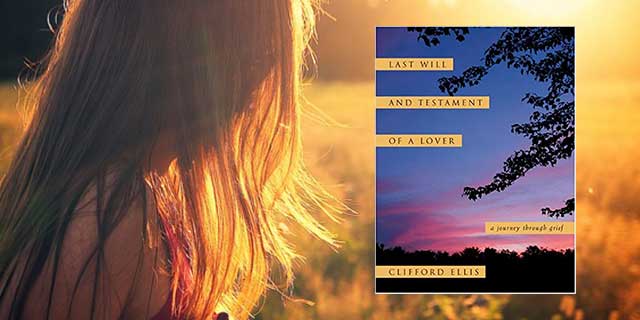 Last Will and Testament of a Lover – by Clifford Ellis
I found this book in the first few weeks after my husband's death when I still could not even say the word death. I felt desperate to make myself acknowledge the reality of his dying inspite of the fact that the funeral was over. The sympathy cards had stopped, the phone calls and visits from friends had slackened and I felt so alone in my feelings. I scanned through several books in the bookstore but they all seemed too glib, too simplified, as if this process of grief would be easy.
As I started to leave the bookstore, my eyes fell on the "Last Will and Testament of a Lover by Clifford Ellis." Intrigued by the title, I picked it up and leafed through the contents page, amazed at how many chapter titles echoed my own thoughts.
Though my husband had been ill for some time, I was totally unprepared for the intensity of my emotions after he passed away. I did not realize that grieving my husband would make me feel physical as well as emotional pain.
[amazon_link asins='0973847409′ template='ProductAd' store='widowie-21′ marketplace='UK' link_id='36d41ca3-70f1-11e8-b6a7-f9232ac2415c']
I had wanted to give him a "perfect funeral, a perfect memorial, a perfect eulogy", if there could be such a thing. I poured myself into writing thank you cards trying to express how much he was loved, knowing that people in our own circle of family and friends would soon forget yet scared that they would.
Life After Death
But as I read this book, I realized, as Clifford Ellis wrote, that "the funeral and all the other ceremonies are parting gifts for you, the living". Being a firm believer in an afterlife, this book confronted and reaffirmed my own belief at a time when I had difficulty making it feel personal. After reading it, I felt that my husband was now ok, and that his life had evolved into what he was born to be. I felt that his will would truly be for me to now become who I was destined to be from this point on until we meet again one day.
I cannot say the book was an easy read, it was gut wrenching at times and I was forced to confront feelings I wanted to run from. I cannot say I have arrived at an acceptance of my own destiny without my husband of forty years. But I can say, that after reading this book, I felt as if I had been left a tangible gift of love willed to me forever.
As I turned the last page, I could almost hear my husband's words to me, encouraging me as he had done throughout our entire marriage, " babe, you will be ok, and I will see you soon."
The Epilogue
I wept through the pages of this book, only to cry even more when I read the epilogue. I was amazed at the insight of the author and his ability to portray the love between a husband and wife.
This article was written by guest writer and forum member Bernie.
[amazon_link asins='0973847409,1622039076,B00F3D8L3C,B00YWCVA6U,1472140087,1426744374,0882820958,151949646X,B00E3KU7JC' template='ProductCarousel' store='widowie-21′ marketplace='UK' link_id='b9c86861-70f4-11e8-9432-290ba848ea86′]