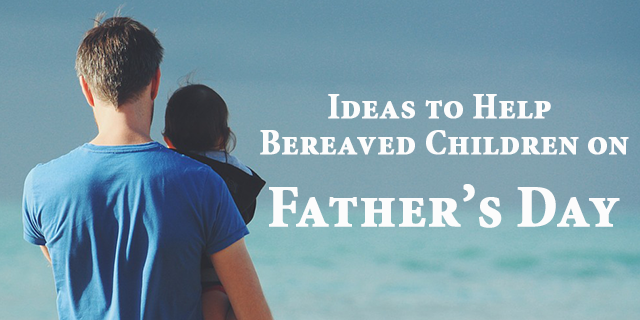 Father's Day Sunday June 18th, 2023 for Ireland and UK
Father's Day is nearly here and it can be a very difficult time for children bereaved of their Dad. In Ireland 38,806* Mothers who are widowed, parent young children alone and it can be a struggle to know how to mark this special day.
But first, lets acknowledge the 11,690* widowed Dad's of young children in Ireland who are doing a wonderful job. Regardless of your children's age parenting alone is very difficult, take a bow Dad's your doing better than you realise. You too Mum's!
Father's Day Ideas
We've gathered together Fathers' Day ideas shared over the years from our community of young widowed parents. Remember to speak with your children in the days before and ask what they would like to do. Some children would like to make cards but others won't want to. Hopefully, some of our ideas will be of help.
Card Making
In the days prior to Father's Day, Primary School children will normally make Father's Day cards in class. It is important for young children, who are bereaved of their father, to be allowed take part and make their card also. If you have concerns, it might be an idea to speak with the child's teacher in the days leading up to Father's Day.
Making a card at home can be a very rewarding time for both the parent and child. It can be a time where stories about Dad can be freely spoken but also a time for tears as they open up. Cards can also be made for Granddad's, favorite Uncles and Godfather's as it's important for them to realise they have other father figures to look up to. Instead of making cards at home, some children might like to shop for the perfect Father's Day card, just like any other child.
A kind teacher or friend could laminate the Father's Day card for placing on the grave. If the option of lamination is not available a clear plastic bag, which can be sealed to help keep the rain away, can be used. You may learn a child could find this very therapeutic to speak freely and to take part in the tradition of Father's Day.
Memory Box
Starting a memory box for treasured memories and photos can be very helpful for a bereaved child. Children can keep homemade gifts and cards they have made or purchased for Dad rather than placing them on the grave.
Print photos from a normal printer as the original treasured photos may get damaged. Little tokens from Dad like key-rings or an old hat can be placed in the memory box.
They can have a special shelf in their room for the memory box and it will be available to them whenever they wish.
Painted Stone
Some children might not wish to make a card or may already have a memory box. They might be interested in painting a round pebble stone with bright colours and let decorate it as they wish.
The painted stone can be easily placed on a grave or kept in the memory box but remember, if the paint is water based it might come off in the first shower of rain.
Flowers for the Grave or Planting Flowerbeds
Let the child pick special flowers from the garden or local flower shop. This will have more meaning as the flowers will be from them and especially for their Dad's grave.
If a trip to the grave is not possible, why not make a special memory garden at home. The memory garden need not be large, it could be a flower pot specially chosen, painted and planted on Father's Day.
Visit the Grave or to where his ashes were buried/scattered
Some children would like to visit their Dad's grave or where the ashes were scattered. It could possibly be a difficult visit for both child and Mother but, asking the child in the days beforehand will reassure them that they have a choice.
Finally, Two Little Tips for Mum from Other Widowed Mum's
If you are recently bereaved, it might be an idea to avoid Facebook on Father's Day. It's a difficult day enough without seeing all the photos of the apparent 'happy families' in your timeline.
Due to the stress of knowing your husband has died and will miss another milestone in your child's life, sometimes this can cause the lead up to special days to be more difficult than the actual day itself. Remember Mum to breath.
Omitted From This List
I have intentionally omitted Chinese lanterns due to the, albeit minor, risk of causing a fire but also, they may become a risk if let off in the flight path of small aircraft. Additionally, they are not permitted is some areas.
Omitted also is the letting off of balloons after seeing news reports where balloons were pulled out of the sea. And we all know plastics in our seas is not a good idea.
Share Your Ideas With Us
If you have ideas for Father's Day please feel free to share with us in the comment section below.
Source: * 2016 census figures.